HOME > Solutions > Core Products/Technologies > iQ Platform >
Product lineup


   e-F@ctory Overview
---

  Edge Computing
---

   IQ Platform
---

   FA Integrated Network
---

   FA Integrated Engineering Software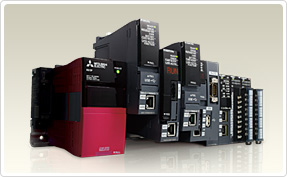 As the core for next-generation automation environment, realizing an automation controller with added value while reducing TCO*. As a bridge to the next generation in automation, the MELSEC iQ-R Series is a driving force behind revolutionary progress in the future of manufacturing.

*TCO: Total Cost of Ownership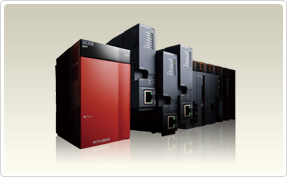 In a highly competitive market an automation system that offers high productivity and stable manufacturing quality is mandatory. The MELSEC-Q series solves this problem through its reduction of total cost of ownership, reliability and compatibility capabilities.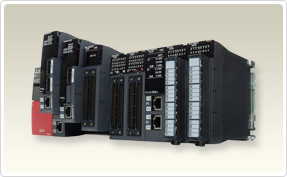 Now that "High-mix Low-volume" production is a big trend in the market, Motion controllers are expected to be used for various applications. The MELSEC iQ-R series Motion controller is capable of various controls such as positioning control, speed control, torque control, tightening & press-fit control, advanced synchronous control and cam control, etc. They are applied to various machines such as X-Y tables, unwinding machines, packing machines and filling machines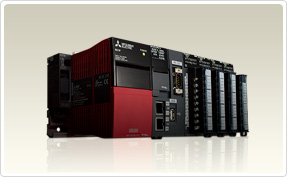 Execute C/C++ programs directly on the programmable controller thereby providing a robust and deterministic alternative to computer based systems, reducing operation and maintenance costs.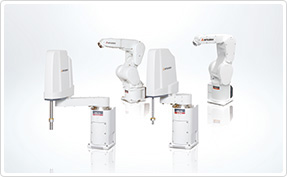 Industrial Robots F Series
We have experience installing F Series products for use in a wide range of industries, including car parts, electrical products/electronics, liquid crystal and semiconductor products, food and medicine, cosmetics, ceramics, education, and research. The F Series offers cutting-edge manufacturing to optimize factory operations through intelligent solutions, making it possible to achieve best-in-class operational speed, high-precision movements carried out by highly rigid arms, and advanced assembly work.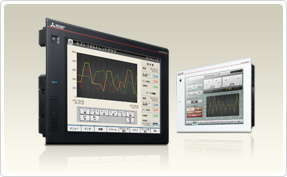 Graphic Operation Terminal GOT2000 Series
The GOT2000 boasts advanced functionality, acts as a seamless gateway to other industrial automation devices, all while increasing productivity and efficiency. The high quality display is designed to optimize operator control and monitoring of device and line statuses. If you are looking for an intuitive operation terminal, the new tablet-like operability and the higher functionality of operation terminal makes the GOT2000 the ideal choice. Incorporate the GOT2000 to bring forth flexibility, productivity, and quality on a global scale.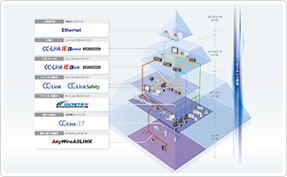 Best-in-class integrated network optimizing production capabilities are realized with seamless connectivity between production management systems, programmable controllers, and other devices without having to worry about network hierarchies. These networks are highly scalable supporting the complete product lifecycle from development, commissioning and maintenance.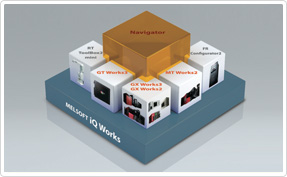 MELSOFT iQ Works is an integrated software suite consisting of GX Works3, MT Works2, GT Works3, RT ToolBox2 mini and FR Configurator2, which are programming software for each respective product. Integration is further enhanced with MELSOFT Navigator as the central system configuration incorporating an easy‐to‐use, graphical user interface with additional project‐sharing features such as system labels and parameters. The advantages of this powerful integrated software suite are that system design is made much easier with a substantial reduction in repetitious tasks, cutting down on errors while helping to reduce the overall TCO.