Industrial/Collaborative Robots-MELFA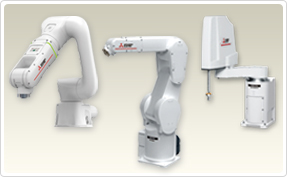 Armed for productivity.
MITSUBISHI MELFA industrial robot fits for cell manufacturing with high speed and high precision performance and combining intelligent technology and MELFA Smart Plus, it has easy connectivity with Mitsubishi's PLCs and FA equipments.

Best fit for applicable to conveying or processing medicinal products and foods.

Network products seamlessly connect complicated and large-scale production sites.