Start IoT solutions with MI3000 by connecting shop floor with IoT
MI3000 connects shop floor and IT systems in real time as the front-end and the base of your factory
Factories that do not create defects, that do not stop.
To make existing factories smarter, demands for applying IoT to shop floor are rapidly increasing. MI3000 utilizes the latest IoT technologies to visualize production activities and collect and analyze big data of manufacturing, thus increasing productivity and ensuring and improving products quality.

MI3315G-W
MI3321G-W
OS
Windows® 10 IoT Enterprise 2016 LTSB (64 bit)
MPU
Intel® Core™ i3-6100U 2.30GHz (Dual Core)
Screen size
15″
21.5" widescreen
Resolution
XGA : 1024 × 768 dots
Full HD : 1920 × 1080 dots
Display color
16.77 million
Touch panel type
PCAP (Projected Capacitive)
Main memory
8GB
Internal storage
2001-03
High resolution, large screen display, and equipped with all necessary functions to visualize factories in one body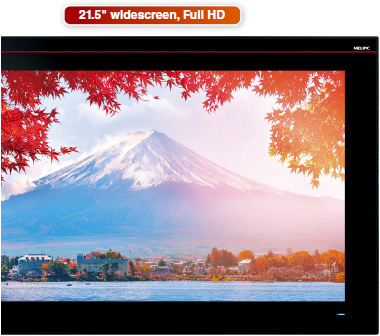 Beautiful, stunning, large screen monitor offers easy-to-view display and user-friendly operation
MI3000 is equipped with large 21.5-inch widescreen display and a full HD high resolution LCD panel*1.
Collected data can be displayed on the easy-to-view screen and can be operated by touch operations.
*1. Equipped on MI3321G-W.
PCAP (Projected Capacitive) touch panel
Light-touch operation is realized with a PCAP touch panel that is widely used for smartphones and tablet devices.
The touch panel with high transmittance offers clear and high visibility display.
Data analysis/diagnosis/monitoring
Equipped with Intel® Core™ i3 CPU, 8 GB memory, and 64 GB SSD. Simple analysis/diagnosis/monitoring of collected data contributes to improve shop floor.
System expansion according to needs
Equipped with various interfaces, systems can be configured according to the customers' needs.
① DisplayPort
Output to an external monitor.
Screen can be displayed on a larger monitor.
② M.2 (2280) SATA (inside the cover)
 Expand storage for collecting and storing large  amounts of data.
③④ PCI Express®/mini PCI Express® (inside the cover)
Expand functions by using an expansion board.
⑤ Sound output
For outputting sound by connecting a speaker with built-inamplifier.
To output sound from GT SoftGOT2000, sound files can be created easily with GT Designer3.
⑥⑦ USB3.0/USB2.0
Each interface has two ports for connecting to various USB compatible devices.
⑧ Ethernet
Various Ethernet compatible devices can be connected to 3 ports.
The network in the office can be separated from the one in shop floor to enhance security.
⑨⑩ RS-232/422/485
For data collection from existing facilities.

Windows® OS and coordination with Edgecross enable wider usage
Windows® 10 IoT Enterprise pre-installed
Not only familiar Windows® applications, but also usercreated applications can be used to configure systems that meet requirements of individual customers. In addition, long-term support of Windows® 10 IoT Enterprise ensures safe use of facilities and devices with long life cycles.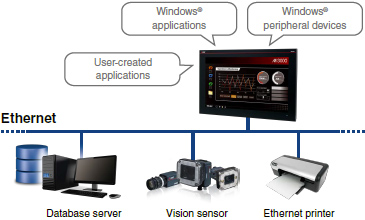 Edgecross compatible software pre-installed
Edgecross Basic Software, SLMP Data Collector, and GT SoftGOT2000 are pre-installed on MI3000.
The data collected by Edgecross, SLMP Data Collector, and GT SoftGOT2000 can be monitored on the GT SoftGOT2000 screen.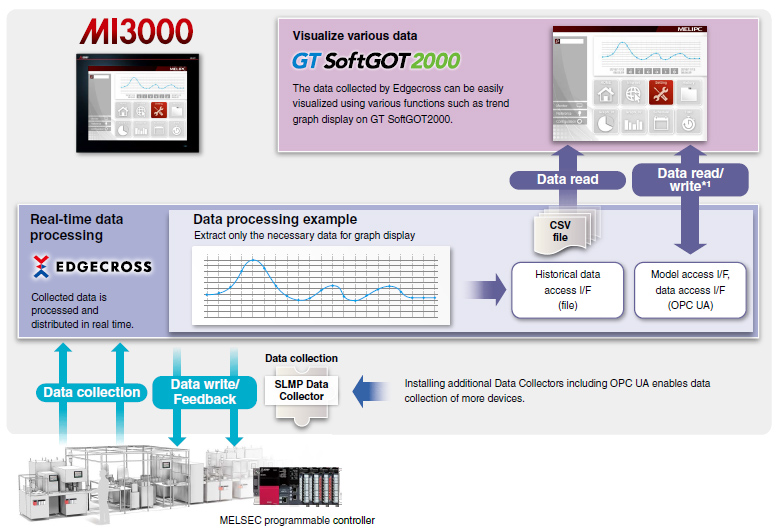 *1. It is required to install MELSOFT GT OPC UA Client software on MI3000 to interact data between GT SoftGOT2000 and Edgecross Basic Software (model access I/F, data access I/F (OPC UA)). For more information about how to obtain the software, please contact your local sales office.
 ■ Related materials

Industrial Computer MELIPC Series MI3000

Start IoT solutions with MI3000 by connecting shop floor with IoT

L(NA)08600ENG-B
Created : 2019-12
Size : 13.0MB(PDF)

Industrial Computer MELIPC Series

Mitsubishi Electric industrial computer MELIPC Series offers new values for Edge computing, IT system coordination, and device control with its robust features and flexibility utilizing general purpose applications.

L(NA)08578ENG-C
Created : 2020-01
Size : 12.9MB(PDF)