Windows® and VxWorks® pre-installed
The module can run two operating systems at the same time, VxWorks® with deterministic performance for device control and data collection and Windows® for displaying analysis results of collected data, allowing superior processing according to OS. This feature allows one module to realize device control and information processing which were previously managed using a computer and dedicated device, reducing system configuration cost and space for devices.
Easy data passing between OSs
Passing data between OSs is easy via share memory and share folder.

Individually reboot Windows®
Even if Windows® freezes, restarting Windows® is possible while VxWorks® is running.
CC-Link IE Field Network realizes highly accurate device control
Control data and production data of devices can be communicated at 1 ms via CC-Link IE Field Network, realizing highly accurate device control and high-speed production data collection. The module is equipped with CC-Link IE Field Network port and CC-Link IE Field Network Basic port which enable easy connection with compatible products just by setting.

Using Windows® and VxWorks® API, high-speed data communications between OSs and access to various devices are easily realized and programming is also easy. In addition, the module uses same functions as the C Controller such as CCPU functions and MD functions, program assets of the C Controller can be utilized.
Inheriting highly robust features of the MELSEC programmable controllers, the module can continuously operate in various environments for a long term. In addition, consumable items are easily removed and replaced, making maintenance easy.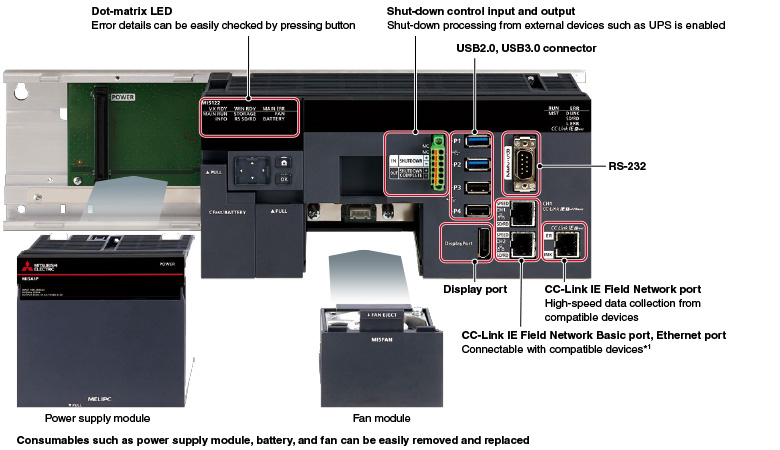 *1. CC-Link IE Field Network Basic supports CH1 only.