HOME > Solutions > Core Products/Technologies > iQ Platform > Product Features >
Network


   e-F@ctory Overview
---

  Edge Computing
---

   IQ Platform
---

   FA Integrated Network
---

   FA Integrated Engineering Software
Reduce system configuration costs
Seamless connectivity is possible between production management systems, programmable controllers and other devices without having to worry about network hierarchies or boundaries. Monitoring and collecting data can be performed from virtually anywhere on the network, and on Ethernet devices supporting seamless message protocol (SLMP)*, such as vision sensors and RFID controllers.

Seamless connectivity through all levels of manufacturing
SLMP eliminates concerns about network hierarchies and boundaries.Monitoring machines and collecting data can be performed from virtually anywhere on the network.
High-speed and large bandwidth ideal for large- scale control systems
The Ethernet-based open network CC-Link IE is an industry-leading 1 Gbps high-speed, large-capacity network. The division of 1 Gbps broadband into uses for distributed control and field data communications secures the reliability of control communications and realizes real-time data collection, which can be difficult with standard Ethernet. In addition, SLMP-ready Ethernet devices such as a machine vision sensor or RFID con- troller can be connected to CC-Link IE without adding another network.

* SLMP: A simple client-server common protocol that enables communication between Ethernet products and CC-Link IE-compatible machines.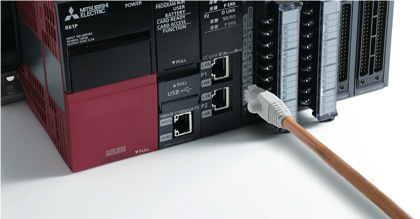 Optimal network proposals for each level
CC-Link IE Control is a high-reliability distributed control network designed to handle very large data communications (128K word) over a high-speed (1 Gbps) dual-loop optical or twisted-pair cable topology.
CC-Link IE Field is a versatile gigabit Ethernet-based network integrating controller, I/O control, safety control, and motion control in a flexible wiring topology supporting star, ring, and line configurations.
CC-Link is a high-speed and highly reliable deterministic I/O control network that realizes reduced wiring while offering multi-vendor compatible products. This open field network is a global standard, originating from Japan and Asia.
SSCNET III/H is a dedicated high-speed, high performance, highly reliable servo system control network that offers flexible long-distance wiring capabilities based on optical-fiber cable topology.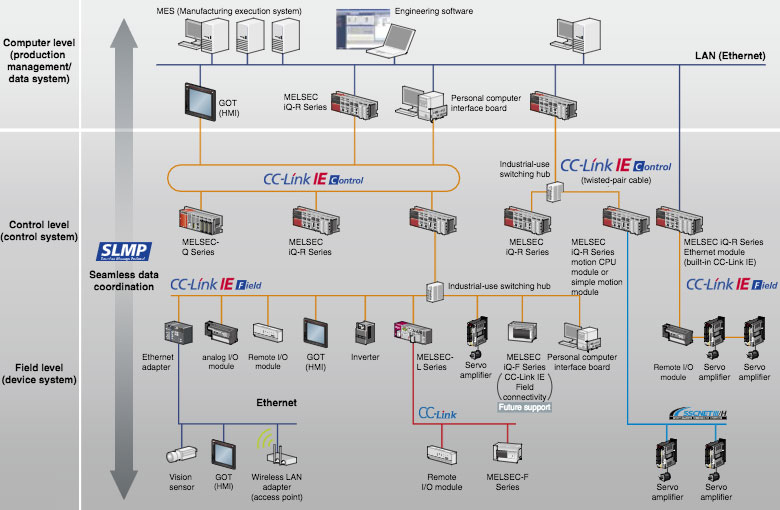 Utilize Gigabit & Ethernet advantages at field/ device level
The high-speed CC-Link IE Field network realizes fast communication between devices improving, system performance, especially for large production lines with various configurations. In addition to this, high-speed CPU processing ensures deterministic control performance by realizing a shorter program scan time.
MELSERVO servo amplifiers are connected to CC-Link IE Field via a dedicated interface, realizing high- speed and high-accuracy control applications.